Why Do You Choose A Hub Motor Electric Skateboard?
The simple mechanism of hub motors made it very popular among the electric skateboarding community. And since many would opt for low maintenance and cheaper parts, the hub motors conquered the low to mid-end market. This simple, affordable and efficient hub motor satisfied the demands of the of all electric skateboarding enthusiasts.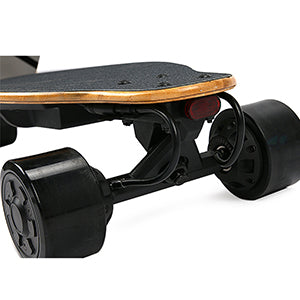 Checking out on the intricate components of the Hub motors reveals a simple structure without a belt. Extremely quiet and without any noise this motor has no issues with maintenance. This is the upside of a no-belt system which means the motor system sends direct power output to the electric skateboard wheels. Since this motor is not belt-driven it allows a 1:1 motor ratio where a revolution is equal to the spinning of the wheel. This implies better efficiency to its performance since less drag means less friction, smoother ride, and extended battery life.
Being available in the market for more than two years, many of the newest electric longboard models use hub motors. Despite the number of variations it can be fixed in the hub of the wheel to allow the motor and the wheel to spin together like the ANZO dual Drive Electric Skateboard. These findings made electric skateboard manufacturers consider the hub motor as highly reliable and efficient. In scenarios where your electric skateboard runs out of juice, you can kick-push like a normal skateboard.
Understanding the specifications of the Hub proves that electric skateboards using hub drive is incredible because it requires low-maintenance and does not accumulate moisture and dust. Speed and rate of acceleration may, however, decrease over time due to wear and tear. With 100% efficiency, this type of electric skateboard needs to be free from dust and liquids to ensure safety on the road.